AMADA PRESS SYSTEM
Stamping Presses
Digital AC Servo Press
NEW
SDE-i3 GORIKI   1-point / 1500 ~ 3000 kN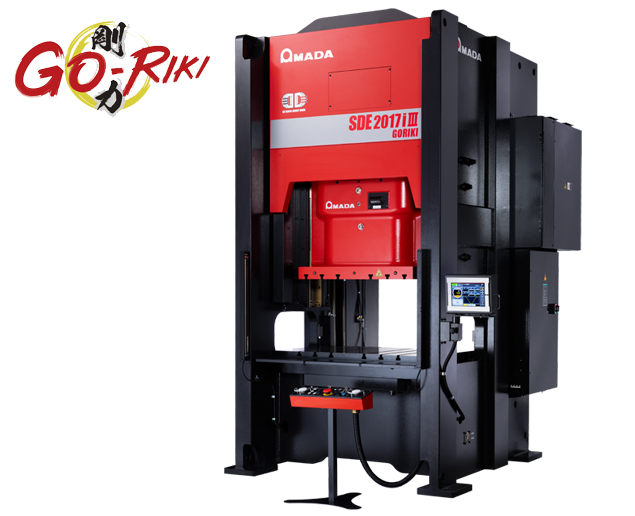 Digital AC Servo Press
"GORIKI," which in Japanese means increased rigidity ("GO") and powerful ("RIKI"), is the name of our high-rigidity type stamping servo press machines.

The newly developed " i3" control system with GORIKI.
---
Features
1. High-rigidity frame structure for strengthening longitudinal rigidity

Amada adopted a new solid column frame structure for our SDE-i3 GORIKI servo press machines, with a chevron-shaped structure on the upper part of the front frame, and reduced cutout in the bed front plate. This chevron shape strengthens the longitudinal rigidity and reduces expansion of the frame during stamping. The reduction of frame movement during material breakthrough compared with the conventional models promotes high-precision, high-quality manufacturing.
2. High-rigidity guide structure for strengthening transverse rigidity

Making the slide gib into a center-gib full-guide structure enhances the lateral rigidity compared with conventional models. The improved eccentric load resistance characteristics sustain stable stamping accuracy.
3. Enlarged slide area

In addition to the high-rigidity frame structure, the enlargement of the slide area allows for the ability to install multi-step dies. This allows for a wide range of stamping needs, including high-value added forming of plate, forging and high-tensile strength steel plates.

Enlarged slide area
4. Diverse motion patterns

The operator can load diverse motion patterns into the controls, creating a database of various processing patterns to select the optimum motion for each stamping type.

Diverse motion patterns
5. Simple Selectable Motion Programming (SSMP)

The new simple selectable motion programming, along with motion sample programming and motion editing, makes the i3 control significantly more simple and easy to program, even for less experienced users.

Processing sample screen
6. ECO-friendly servo press machines with environmental consideration

AMADA's servo press machines were ECO machines, or environmentally conscious products, which contribute to environmental impact reduction and working environment improvement.

Power conservation: Sharp reduction of power consumption*

Resource conservation: Reduction of lubricating oil consumption*

Working environment: Significant reduction of stamping noise*
* Mechanial stamping press machine of the same class

ECO monitor screen
7. Improved operability of the screen

Three types of basic operation mode screens are provided for ease of use. Verifying the necessary information in each operation mode can be done quickly and easily.

Production

Trial

Setup
---
Movies
Material: hot-rolled sheet steel, Thickness: 3.2 mm
---
Production Samples
High-accuracy shear processing
Machine: SDE-1515 GORIKI
Material: Hot rolled mil steel sheet (JIS: SPHC)
Thickness: 3.2 mm
Size: 83 x 46 mm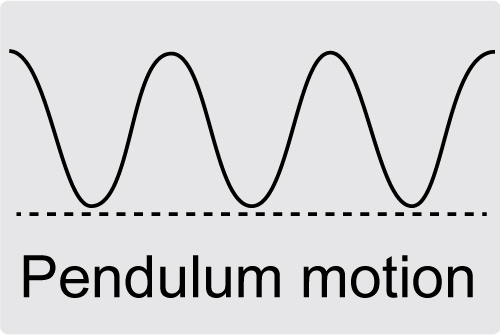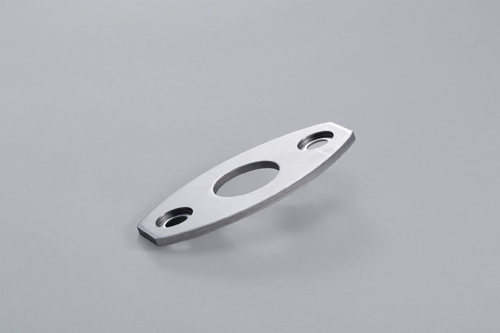 Integrated forming by plate forging technology
Machine: SDE-2017 GORIKI
Material: Hot rolled mil steel sheet (JIS: SPHC)
Size
Outer diameter: ø34.5 mm
Thickness of flange: 4 mm
Axial height: 11.5 mm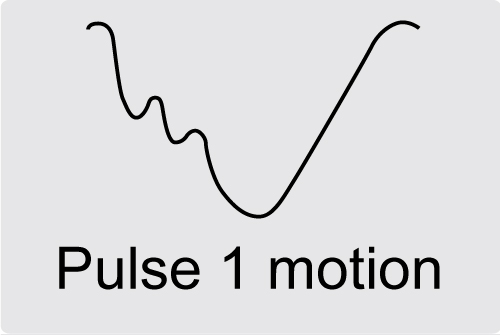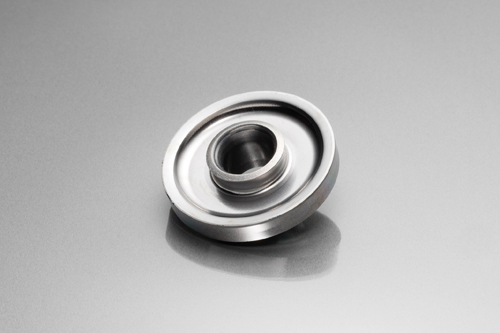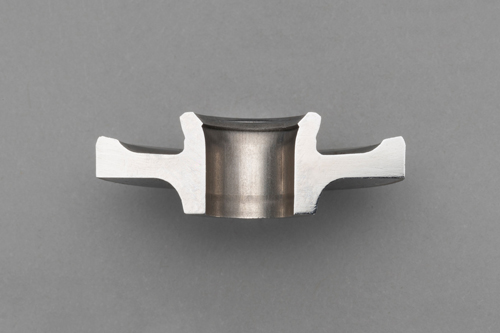 Sample workpieces supplied by OTA CO., LTD.
---
Systemup Examples
Customers can upgrade their systems by selecting and combining the optimal peripheral equipment and other components.
Coil handling system
The best combination with the GORIKI exclusive straightener-feeder LFO Series.
A variety of lineups according to the processing content and high-operability are realized, contributing to high-precision processing.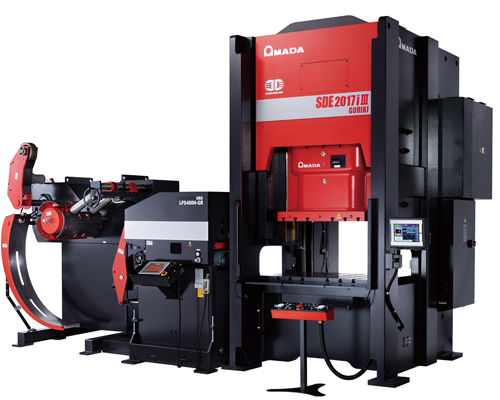 SDE-2017i3 GORIKI + LFO400H-GR
Main features of
LFO400H-GR
1. Standard equipment with "Analog loop control"

The uncoilers rotation control prevents coil loosening and reduces scratches during forming loops.

2. Standard equipment with "Active Straightening Correction"

The straightener is automatically adjusted during production as the coil size is reduced. Automatically maintaining flatness accuracy.
3. Data sharing of each operation screens

The straightener-feeder shares its machine data with the stamping press, enabling the operator to view the settings on the press operator interface screen.
Specifications
Model
Stock width
mm
Stock thickness
mm
Max coil mass
kg
Max coil O.D.
mm
Feed length
mm
Max line speed
m/min
Number of
work rolls
upper/lower
Mandrel
expansion
LFO400H-GR
70 ~ 400
0.6 ~ 6.0
3000
ø1400
~ 500
22
4/3
Air
---
Specifications
Machine name
High-rigidity flame
SF (GORIKI) type
Capacity
kN
Stroke length
mm
No. of strokes
min-1
Die height
mm
 SDE-1515i3
SF (GORIKI)
1500
150
~ 95
380
SDE-2017i3
SF (GORIKI)
2000
175
~ 75
415
 SDE-3020i3
SF (GORIKI)
3000
205
~ 60
460
---
These specifications, machinery, equipment, and appearance are subject to change without notice for reason of improvement.
Please contact us for overseas specifications.
---
Contact Us
Contact for repair/recovery of AMADA PRESS SYSTEM products and our corporate activities.
Contact Us