AMADA PRESS SYSTEM
Stamping presses
NEW
SDE GORIKI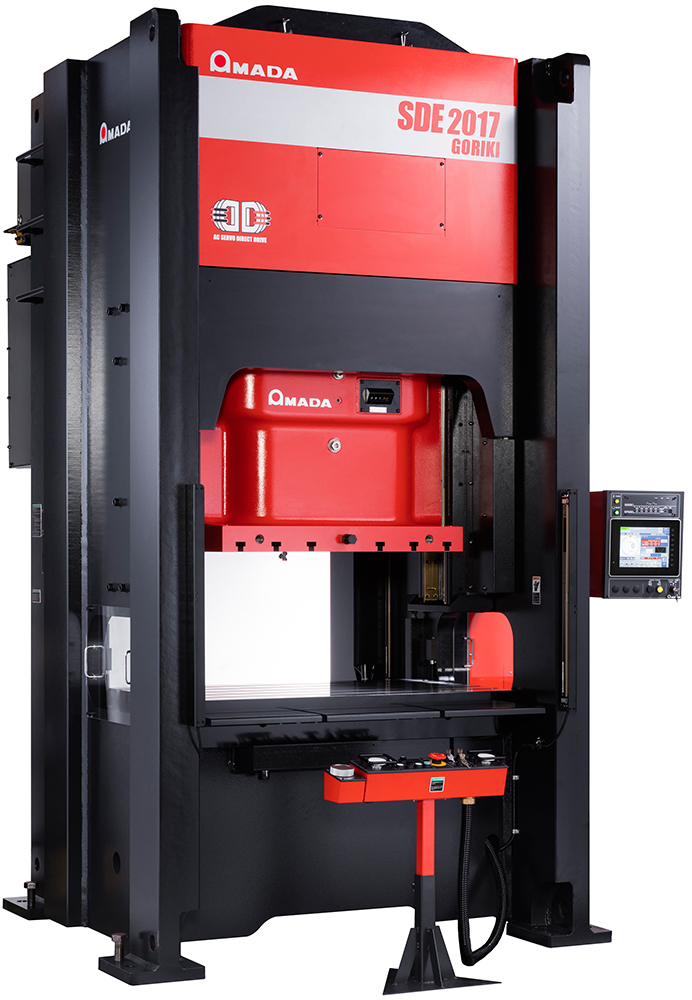 Digital AC Servo Press
---
---
Features
■ Features(1) : High-rigidity frame structure for strengthening longitudinal rigidity

A new solid-column frame structure was adopted with a chevron-shaped structure on the upper part of the front frame and reduced cutout in the bed front plate. The longitudinal rigidity has been strengthened with the reduced expansion of the frame during stamping. With the reduction of breakthrough amount compared with conventional models, high precision, high quality manufacturing is supported.
■ Features(2) : High-rigidity guide structure for strengthening transverse rigidity

By making the slide gib into a center-gib full-guide structure, the lateral rigidity has been enhanced compared with conventional models. With the improved eccentric load resistance characteristics, stable stamping accuracy is maintained at production.
■ Features(3) : Enlarged slide area

In addition to the high-rigidity structure, enlargement of the slide area has enabled installation of multi-step dies, which has realized to meet a wide range of stamping needs, responding to the high-value added forming of plate forging and high-strength steel plates.
■ Features(4) : Diverse motion patterns

Diverse motion patterns are loaded. By creating a database of various processing know-hows, the optimum motion is selectable to meet each stamping type.
---
Movies
Material: SPHC / Thickness: 3.2mm
---
Specifications
SDE-1515
SDE-2017
SDE-3020
Press capacity (kN)
1500
2000
3000
Torque capacity rating point above BDC (mm)
4.3
5.3
5.0
Side opening*1 (mm)
580×280
650×305
770×350
Continuous no-load stroke rate (min-1)
- 95
- 75
- 60
Stroke length (mm)
150
175
200
Die height (mm)
380
415
460
Slide adjustment (mm)
100
110
110
Slide face dimensions (LR x FB) (mm)
950×580
1050×650
1350×750
Bolster dimensions (LR x FB x T) (mm)
1290×750×160
1420×850×180
1740×900×200
Working surface height*2 (mm)
900
1000
1055
Main motor (AC servo),
Continuous rating (kW)
35
40
50
Machine dimensions*2(W x L x H) (mm)
1900×1655×3295
2050×1850×3670
2490×2050×4420
*1 The side opening is the dimension from the top height of the bolster.
*2 The working surface height and machine height does not include the height of the vibration isolater.
---
These specifications and machinery and equipment appearance are subject to change without notice for reason of improvement.
This products is for Japan domestic market.
---