AMADA WELD TECH
Laser Welders
Laser Weld Monitor
NEW
Laser Weld Monitor MM-L300A

New suggestion of quality monitoring in laser welding!
Available for in-process monitoring!
A machine available for in-process monitoring in all welding.
Available for pulsed and CW laser by high speed resolution.
Light weight and compact design.
The welding monior detects near infrared rays generated in the welding and shows the intensity as waveform. We can compare the waveform of good welding that is monitored in advande and the other one that is detected just now.
The monitor is suitalble for welding quality management as detecting gap, depth of welding, and so on.
It's recommended for the customers who will use laser welder at first time or who are in trouble of welding quality management.
* It means the wavefrom that is monitored in sample test in advance.
---
Features
■ Comparison judgement

Available for comparing good-data with bad-data. It's effective-use to judge in processing line. *Verifying in advance is needed.

■ High speed resolution

Enable for high speed resolution with dedicated sensor. Monitoring not only CW laser but also pulsede laer.

■ Configuration

This is a configuration to use MM-L300A.
The product seems to be used in production lines.

■ Light weight and Compact design

Light weight and compact in this market. Reducing set-up space when you construct processing lines.

■ Sensor on axis and outside attachment

The dedicated sensor can be equipped our focusing unit with CCD on axis and also can be set outside.

■ Easy to operate

Controlling and preserving data in lap-top installed dedicated software.

■ Available for Ethernet (EtherNet/IP).

It enables to monitor remotely or to manage all of data coming from each procution lines.

■ Compliance with CE marking

* some options are not available. please ask us the details.
---
Specifications
Introduing of specifications.
Model
MM-L300A
MM-L300A
Dimensions (mm)
230(W)×243(D)×89(H) *Without connector
Power supply
Single phase AC90~250V 50/60Hz
Power consumption
Less than 18W
Interface
D-sub15 pin
Channel
1
Minimum resolution
1μs
Monitoring time
1μs~999sec
Comparison function
Analysis
Waveform
Judgement
Envelope (upper/lower limit setting)
Temperature in operation
0~40℃ (No-condensation)
Humidity in operation
85%RH or under (No-condensation)
Sensor
Dimensions (mm)
50(W)×35(D)×96(H) *Without connector
50(W)×35(D)×106(H) *Equipping filter, without connector
Guide light
Green LED
Temperature in operation
5~50℃ (No-condensation)
Humidity in operation
85%RH or under (No-condensation)
*Specifications subject to change without notice.
---
■ Waveform
Schedule
layered seam welding / material:stainless steel 304 / power:check below / thickness:t0.3mm
gap:3.0mm / time:0.8s / speed:80mm/s / sensor on axis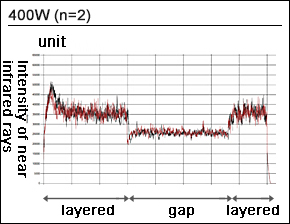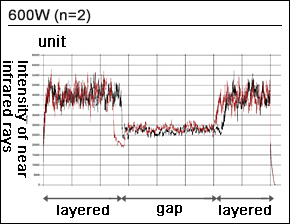 ---
Customer support
If you have any questions as the products, reparing, and corporate information, plaese contact us.
Customer support