AMADA WELD TECH
Laser Welders
Direct Diode Laser Welder
20W ML-5020AW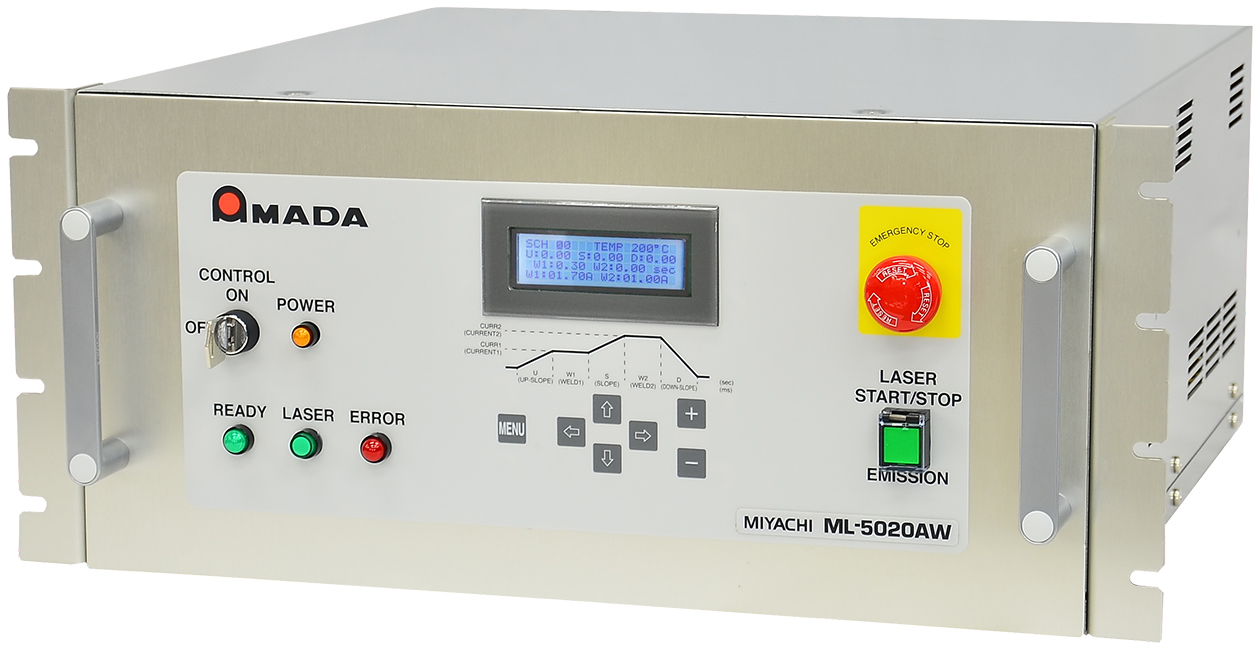 Active Heat Control™ Function equipped and suitable for laser soldering!
Direct Diode Laser Welder of 20W output that enables to weld two points at the same time.
The target is laser soldering on small devices. Compared with soldering iron, no-contact and less-damage are implemented.
It's available for "Active Heat Control" and the new function is suitable for the processing that heat imput controlling is important.
This new product is recommended for laser soldering of electronic parts as chip resistors and coaxial cables.
---
Features
Active Heat Control ™
Dedicated focusing unit (option) is necessary for the function.*1
Available for two points processing and each focusing unit.
In case of laser soldering, melting temperature is lower than metals as stainless steels or aluminum. The Active Heat Control is effective technology for reducing breakdowm time. Also it's recommended for the customers use laser welder for the first time.

■ Suitable for laser soldering

Laser soldering is non-contact method by using laser for the heat sourse. It doesn't use soldering iron.
Troubles of soldering tip is avoided and it leads to less maintenance.
Also, the feature of laser soldering is localized heating. It means heating of whole of the workpiece is not needed. The localized heating is implemented by using laser and is suitalble for precise parts as electronic parts that tend to be smaller.
How to do laser soldering
Wire solder is provided after laser emission.
In case of paste solder, it's provided befor laser emission.

■ Example of laser soldering on chip resistor

1: Set a sample

2: Generate heat by laser emission

3: Provide solder

4: Solder is melt and spread

5: Laser emission is stopped and chip resistor is connected

It enables to controll laser power exactly to be the best condition of soldering owing to Active Heat Control.

■ Active Heat Control

■ Less power consumption

Direct Diode Laser welder is the machine that is less power consumption and use the power effectively. It can use laser beam oscilated from the LD (laser diode) directly.

■ Suiballe for laser plastic welding

The new welder enables to weld plastics that the melding temperature is lower than metals owing to the beam quality of direct diode laser. The feature of plastic welding is cost reduction due to no-use of adhesive. Thus it's a well-considered processing for our environment.

■ Light weight and compact design

Design for setting up in automatic machines and it leads to space saving.

■ Maintenance free

Maintenance free achieved according to the design optimization and it leads to reduction of consumable cost and man-hour.
---
Production Samples
Laser Soldering Sample

Laser soldering

Let us know if you ask integrated systems.
---
Specifications
| | |
| --- | --- |
| Model | ML-5020AW |
| Maximum rated output (W) | 20×2 |
| Emission length (~sec or ~ms) | to 5 or to 999 |
| Fiber size (φ-mm) / length (m) | 0.1 / 5 |
| Wavelength (nm) | 915 |
| Cooling method | Full air cooling |
| Power requirements (AC-V, Hz) | Single phase 100 to 220 50/60 ±10% |
| Focusing unit | Dedicated focusing unit |
| Weight (kg) | 22 |
| Dimension (mm) | 480(W)×563(D)×211(H) |
* Specifications subject to change without notice.
---
Customer support
If you have any questions as the products, reparing, and corporate information, plaese contact us.
Customer support