AMADA MACHINERY
Grinding Machines
Forming Grinders
High precision forming grinder
MEISTER-G3 UP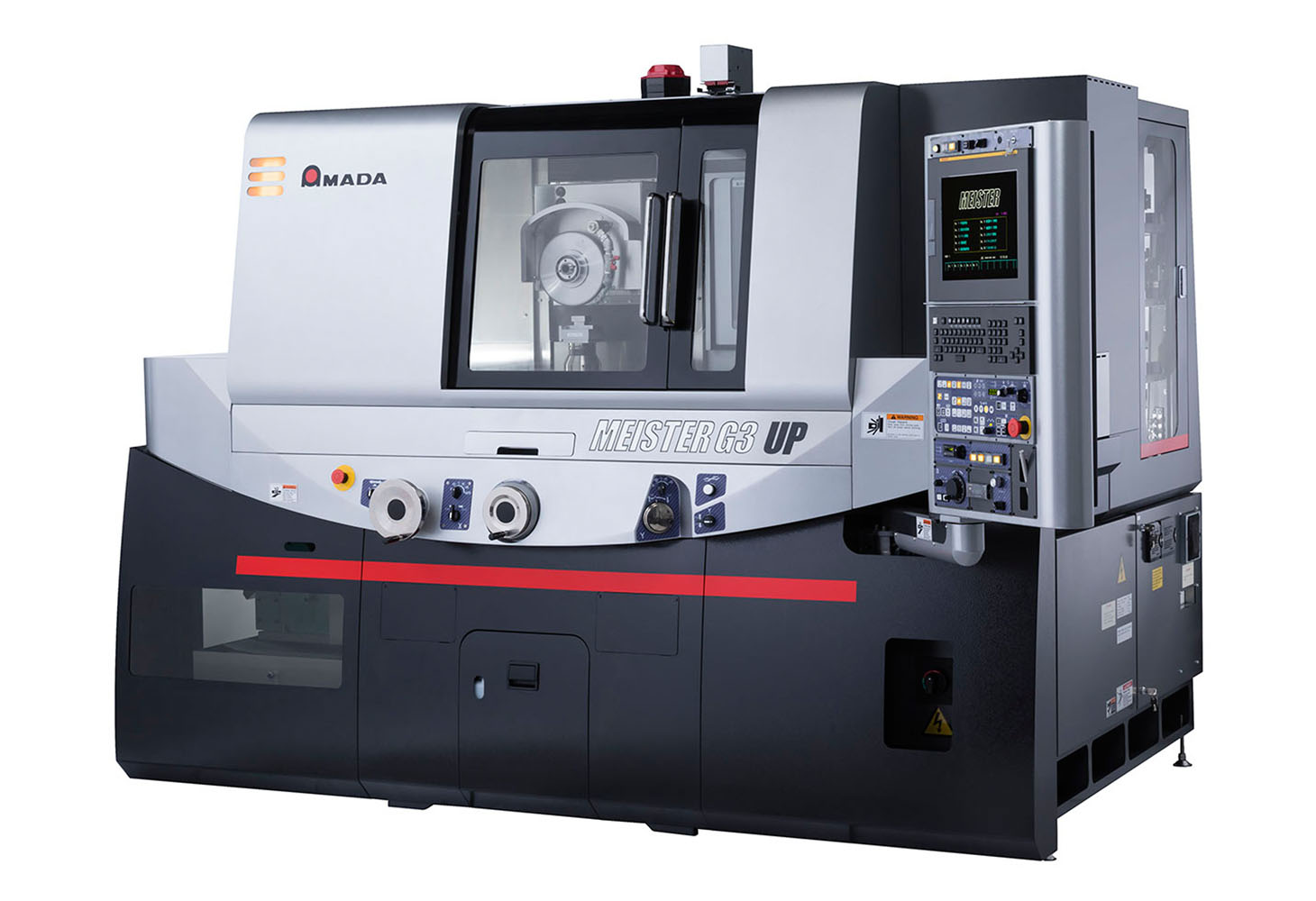 High Precision Forming Grinder
Equipped with diverse functions that enable unmanned grinding
---
---
Features
■ Features(1) : Can be used as both "ATC" and "AWC" with a single built-in robot.

Automatic replacement of grinding wheel and workpieces enables improved productivity and reduction of man-hours.
It enables continuous processing of works of different shapes and different materials.

ATC

AWC
■ Features(2) : Space-saving compact design "ATC/AWC stocker"

15 locations for stock are available. The layout can be changed depending on the purpose.
The floor space is the same as that of standard machine.

ATC/AWC stocker
■ Features(3) : "ATC spindle" compatible with automatic grinding wheel replacement

High rigidity and high reproducibility are realized by adopting HSK32.
Ceramics BRG realizes low vibration and low heat generation.
Processing efficiency is enhanced by high spindle rotation speed of Max. 10000min-1 and high output of 3.7 kW.

ATC spindle
■ Features(4) : "High-precision indexing circular table" realizing multi-dimension continuous machining with a single clamping motion.

Productivity is increased by reducing man-hour for change-over through multi-process continuous processing.
High-precision clamping realizing excellent reproducibility is possible.

Indexing circular table
■ Features(5) : Ball screws are used for left and right table axes.

Energy saving and reduction of operating costs are achieved by eliminating hydraulic pressure element.
The use of ball screws on the left and right axes improves positioning accuracy on the left and right.
High reciprocating grinding and creep grinding are possible by NC control.

Left and right table axes
■ Features(6) : Equipped with "air microsensor" that enables the position setting of grinding wheel.

Positioning of grinding wheel in three directions (up /down, back / forth) is possible.
Because of the pneumatic system, there is no direct contact with the workpiece during positioning.

Air microsensor
---
Specifications
Model

MEISTER-G3 UP

Workpiece stocker*1

Maximum workpiece size (including jigs)
(width x depth x height) (mm)

100 x 100 x 70

Maximum number of workpieces to be stored

15*2

Maximum mass of workpiece (including jigs) (kg)

3 (Without palette)

Tool stocker*1

Maximum number of grinding wheels and coolant nozzles to be stored

7*2

Maximum mass (1 grinding wheel + 1 coolant nozzle) (kg)

4

ATC main spindle

Bearing inner diameter (mm)

φ50

Large diameter grinding wheel (OD x width x bore) (mm)

φ205 x 6.4 -15 x φ31.75

Medium diameter grinding wheel (OD x width x bore) (mm)

φ100 x 3 - 10 x φ22.23

Tool interface

HSK-E32

Spindle speed (min-1)

500 - 10000
*1 Only stocker frame comes as standard accessory. Storage pot and shelf are optional.
*2 The maximum number of workpieces, grinding wheels, and coolant nozzles to be stored are 15 pieces in total.
---
Specifications, appearance and equipment are subject to change without notice by reason of improvement.
This products is for Japan domestic market.
---
Contact Us
Contact for repair/recovery of AMADA MACHINERY products and our corporate activities.
Contact Us