AMADA MACHINERY
Metal Cutting Machines
Pulse Cutting Band Saw Machines
PCSAW-720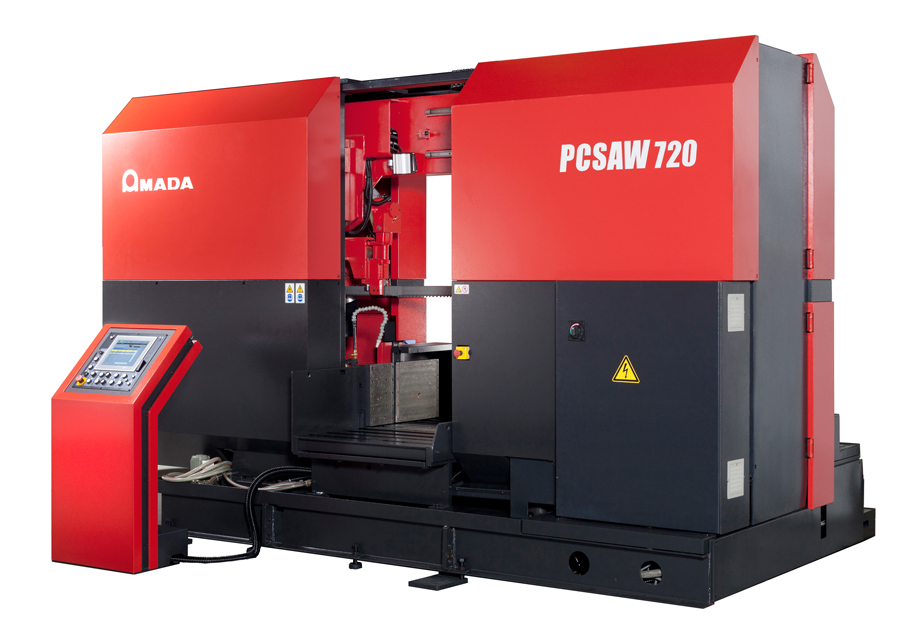 Single Pulse Cutting Band Saw Machine
---
---
Features
■ Features(1) : High speed cutting

The single pulse cutting technology reduces cutting resistance thereby minimizing blade teeth wear. Moreover, this new pulse unit enables to reduce noises.

■ Features(2) : Band saw machine compatible with AXCELA blade

This CNC-controlled band saw machine model is compatible with cutting the conditions of the AXCELA blade and can maximize the capability and performance of the AXCELA high performance carbide blade.

■ Features(3) : Longer blade life

The network-based CNC controller is introduced in combination with the hybrid real time cutting control. Optimum cutting database supports high speed cutting and increases a blade life.

■ Features(4) : Improvement of work environment

Powerful Prevent Vibration Roller reduces both chattering vibrations and cutting noises.

■ Features(5) : Operation panel suited for user's work environment

The separately installed stand-alone main operation panel can fit in your work space and layout. The portable sub operation panel (option) is available to allow a user to remotely control work processes easily at a distance from the main operation panel.

■ Features(6) : Improvement of workability

Inclination of chip conveyor adopting +15°of angle to reduce the volume of cutting oil adheres cutting chips flowing out.
Adopting laser-type quick approach facilitate aligning the cutting position of the material, and setup positioning of the approach speed selection.
Creating wider gaps between the rollers. This idea improves the workability of loading up and down by mounting wire through between the rollers.

The material on the photo above is banded without the scratch protector.

■ Features(7) : Selective cutting stop height setting

A cutting stop height setting can be selected from two options: "stop height" and "cutting depth." The "stop height" setting determines an uncut length and the "cutting depth" setting determines a cutting depth.
---
Specifications
PCSAW-720
Cutting capacity (mm)
Round (Dia)
φ720
Rectangle (W x H)
815 x 715
Blade size (W x T x L) (mm)
67 x 1.6 x 8300
Blade speed (m/min)
15 - 110
Motors (kW)
Saw blade
11
Hydraulic pump
3.7
Coolant pump
0.25
Wire brush
0.2
Saw head
-
Pulse cutting
0.2 x 2
Power requirement (kVA)
25
Stroke length (mm)
500
Tank capacity (L)
Hydraulic
110
Coolant
200
Table height (mm)
700
Allowable load (Mass of work) (kg)
8000
Machine dimensions (W x L x H) (mm)
4387 x 2181 x 2812
Mass of machine (kg)
8000
---
---
These specifications and machinery and equipment appearance are subject to change without notice for reason of improvement.
This products is for Japan domestic market.
---
Contact Us
Contact for repair/recovery of AMADA MACHINERY products and our corporate activities.
Contact Us