AMADA MACHINERY
Metal Cutting Machines
Hyper Saw
HPSAW-310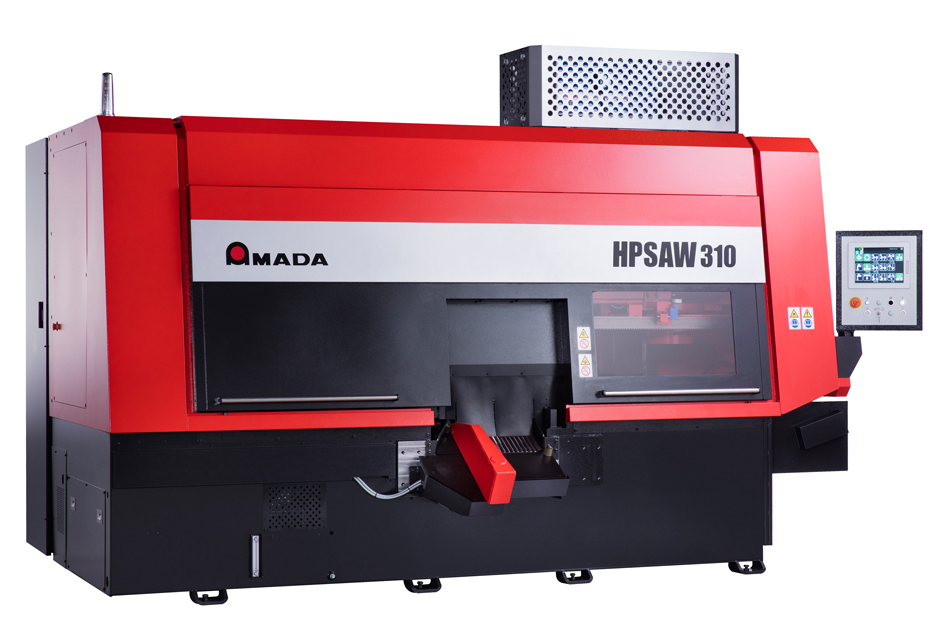 Hyper Saw
A hyper speed band saw machine created through the integrated development of machines and blades

Production efficiency is dramatically improved by shortening the cutting time.
We have newly designed a "double gates type guide" and a "bridge type saw head frame" to realize stable hyper speed cutting of mild steel.
Mass cutting at the fastest speed in its class. We have developed an epoch-making band saw that overturns common sense.
---
---
Features
■ Features(1) : stable super high speed cutting

Reducing the load to the blade body and by making the twisting angle of the blade to 0°, the fatigue life of the blade body is prolonged and the running speed of the blade is increased dramatically.
To deal with the huge cutting resistance generated by super high speed cutting, the saw head frame and the guide were newly designed. For bridge type saw head frame, deflection generated when the blade is stretched with strong tension is designed optimized by the optimum stress distribution technique.
Vibration reduction rollers are mounted on the blade guides of both sides, with combination of high pressure coolant that plays the role of liquid damper, vibration of the blade that is running at high speed is largely restrained.

Twist angle of blade: 0°

Highly rigid double gates type guide

Structure analysis
of bridge type saw head frame

■ Features(2) : High speed / high precision mechanism

An AC servo motor and a linear guide are adopted for the material feeding mechanism.
Both high speed material feeding and high precision positioning for cutting are achieved simultaneously.

■ Features(3) : Improve quality

The high pressure coolant forcibly cools the heat generated at super high speed cutting.
Rotation speed of the wire brush is adjusted automatically. Defective cut section due to chips is prevented by removing chips adhered to the blade running with high speed.
Noncontact type, high quality cutting bending detectors are mounted on the blade guides of the both sides. Cutting bending is measured highly precisely in real time.
Linear guides are used to support and guide the front main vise. Wear and maintenance is reduced while also improving stability of the vise. Material is always clamped firmly.

High pressure coolant

Opening and closing vise with linear guide
---
Movies
*The cover is an exhibition specification.
---
Specifications
Model
HPSAW-310
Cutting capacity (mm)
Round (Dia)
φ50 - φ310
Rectangle (W x H)
50 x 50 - 310 x 310
Cut-off length (mm)
10 - 600*
Blade size (W x T x L) (mm)
67 x 1.6 x 7345
Blade speed (m/min)
15 - 400
Blade twisting angle(°)
0
Motors (kW)
Saw blade
22
Hydraulic pump
3.7
Coolant pump
0.25
High pressure coolant pump
1.3 / 1.5
Wire brush
0.4
Chip conveyor
0.1
Saw head
1.0 (AC servomotor)
Material feeding
1.0 (AC servomotor)
Feeding vise stroke length (mm)
600
Table height (mm)
940
Power requirement (kVA)
60
Allowable load (Mass of work) (kg)
1100
Machine dimensions (W x L x H) (mm)
4309 x 2707 x 2354
Mass of machine (kg)
8000
* The unloading device is required, when the product length is 200 mm or more.
---
Automation Systemization
Material carrying-in system and product carrying-out system (option)
Working rate is significantly increased by automation and systematization of "material carrying-in", "cutting", and "product carrying-out/sorting". Reduction of load to workers and long time automatic operation are achieved.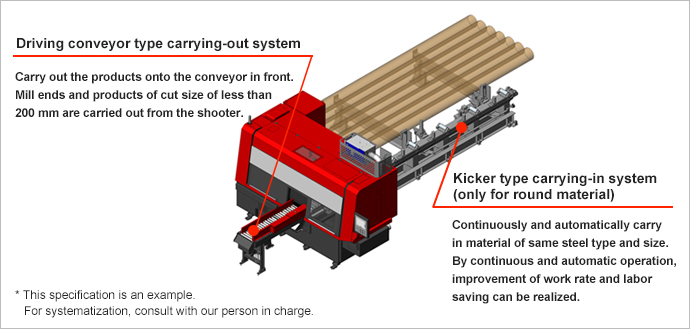 Discharge of chips and collection of cutting oil solution
Large amount of chips generated during the super high speed cutting and are treated automatically.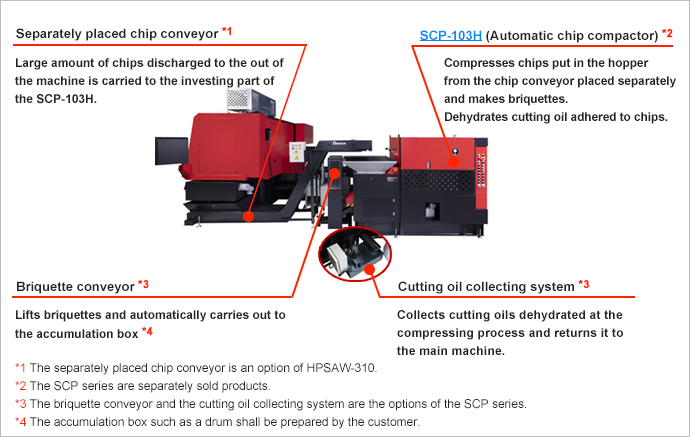 ---
Options
Kicker type carrying-in system (only for round material)
RT conveyor
Driving conveyor type carrying-out system
Product sorting carrying-out system
Separately placed chip conveyor
Mist collector
---
Specifications, appearance and equipment are subject to change without notice by reason of improvement.
This products is for Japan domestic market.
---
Contact Us
Contact for repair/recovery of AMADA MACHINERY products and our corporate activities.
Contact Us