AMADA
Blanking machines
Turret punch presses
EM-ZR series
Fully automatic punching solution machine
Fusion original technologies to achieve processing with high speed, productivity and grade

The EM-ZR series comes with the world's unparalleled drive system, or AC servo direct twin drive, and the ZR turret, a major innovation since the development of AMADA's first numerically controlled turret punch press (NCT).

Parts can be produced not only with high speed and productivity but also with less scratches.

Further with ID tools and elimination of processing limits, the EM-ZR series can perform high-mix low-volume production continuously over 72 hours.
---
---
Features
■ Features(1) : High quality and high speed processing

High speed processing with scratch-free bottom surfaces ZR turret and completely flat table
Easy programming No track dead zones, free tool location

■ Features(2) : Stable high quality processing

Prevention of tool setup mistakes ID tools
Stabilization of high quality processing Tool condition management
Elimination of shimming time Automatic die height adjustment

■ Features(3) : Automation of tool setup

Easy creation of nesting data High tool storage capacity
Reduction of machine downtime Automatic tool changing system
---
Movies
Material: SUS430 / Thickness: 1.0mm
---
Production Samples
Material: Galvalume steel/
Thickness: 1.6 mm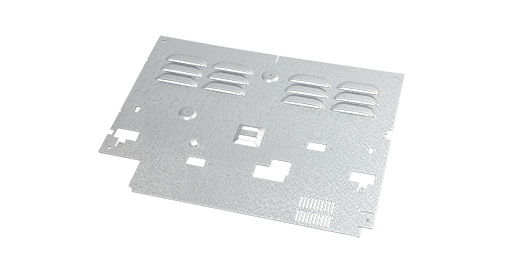 ---
Systemup Examples
Space-saving (Single-storage tower specification)
A destacker in the storage tower allows for flexible process scheduling regardless of material types and thicknesses.
Material and part storage towers (Two-storage tower specification)
The two-storage tower specification, composed of a material storage tower and a part and skeleton storage tower, allows the continuous processing of multiple materials and parts at the same time.
Automated storage and retrieval system specification
Continuous operation for a long time realized by connection with an automated storage and retrieval system. The overall system can be laid out to suit the available floor space and height of specific customers.
* Customers can upgrade their systems by selecting and combing the optimal peripheral equipment software and other components.
---
Specifications
Press capacity
(kN)

Maximum processing size
(mm)

Hit rate
(25mm pitch/
5mm stroke)
(min-1)

Punching accuracy
(mm)

Turret
(Station)

EM-3510ZR T

300

2500×1275

500

±0.1

36(2AI, 4MPT)

32(4AI, 4MPT)
*W/ Range E

32(4AI, 4MPT)
*W/o Range E

EM-3510ZR B

EM-3612ZR T

3050×1525

EM-3612ZR B
---
*EM-ZR T: Tool storage specification
*EM-ZR B: Buffer turret specification
*Punching accuracy is based on our data
*For Japan domestic market.
---