AMADA
Blanking machines
Punch and Laser combination machine
ACIES Series
Blanking process integration solutions
Turret innovation after 40 years from NCT birth. / Corresponding to various mix, various volume production and 72 hours continuous operation.

"ACIES" which means the 'Latest' in Latin is a Full-automatic type solution which can produce processing data quickly even if it is a new product and the minimum lot, reducing setup to a limit and continuous automatic operation. This solution supports your manufacturing in various mix, various volume production era.

We will support manufacturing in various-mix various-lot production era.
---
---
Features
■ Features(1) : ZR turret / Full-flat table

Achieve of high speed and less-scratch processing on bottom side of material.

■ Features(2) : New slug suction device

Efficient slug-up prevention mechanism on all tool stations.

■ Features(3) : ID tooling

Stable high quality processing.
Prevention of tool-set mistake.

■ Features(4) : Free location by non track dead zone type tooling

Possible to produce in Y=0 on inside track.

■ Features(5) : MPT tapping unit

Automatic exchange of 7 kinds tapping tool corresponding to M2.5-M8.

■ Features(6) : Energy saving mode

Power controlled during idling time. Drastic reduction of power consumption.
---
Movies
Material: SECC/thickness : 1mm
---
Production Samples
Material : SECC/
Thickness : 1mm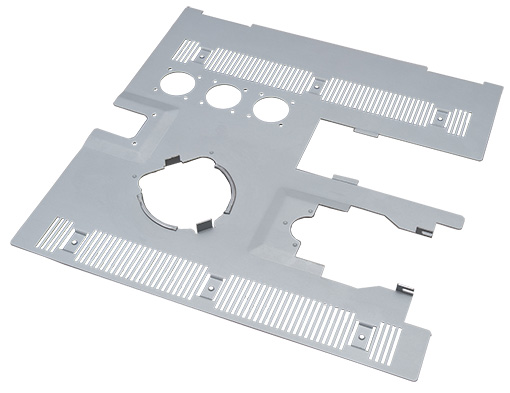 ---
Systemup Examples
* The model corresponding to storage, ACIES-2512T.
---
Specifications
Press capacity
(kN)

Maximum processing size(mm)
X × Y

Oscillator

Maximum sheet thickness
(mm)

ACIES-2512T

300

2500×1270

AF4000i-C
(rated output: 4kW)

AF2000i-C LU2.5
(rated output: 2kW)

6

ACIES-2512B

ACIES-2515T

2500×1525

ACIES-2515B
---
*For Japan domestic market.
*For any inquires, please contact local AMADA branch office.
---