AMADA
Blanking machines
Punch and Laser combination machine
ACIES-AJ series
Fiber laser-equipped blanking process integrated solution
A further evolution of ACIES!
High speed, low running cost processing

A debut of the ACIES-AJ series with the fiber laser AJ installed on the blanking process integrated solution ACIES for variable-mix variable-volume production and high quality processing !

The ACIES-AJ series has overcome the weaknesses of CO2 laser systems and has achieved high speed, low-running cost processing.

The laser cutting area is enclosed by a table cabin and a shutter to ensure safety. Combination with automation options allows for continuous long-time operation.
---
---
Features
■ Features(1) : High speed and low running cost (High speed processing of thin materials)

As compared with CO2 laser cutting, thin materials can be clean cut with higher speed and lower running cost.

■ Features(2) : Safety and operability achieved together (Table cabin)

The laser head moves in the Y-axis and the material moves only in the X-axis during laser cutting. The processing area is enclosed with a table cabin and a shutter to completely prevent the laser beam from escaping outside.
As compared with a fully enclosed machine, this solution saves on space and ensures the safety of the operator.

■ Features(3) : Easy operation (AMNC 3i)

The AMNC 3i has a large screen with good visibility and can be intuitively operated like a smartphone.
Touch on graphics allows for change of processing conditions, shelf operation with the NC unit, and check of operating results.

■ Features(4) : High quality and high speed processing (ZR turret and full flat table)

Free from scratching of the bottom surface by the tools and to devise forming process programs.
The die rises only as much as required for processing. This feature allows for scratch-free production of upformed parts, downformed parts, and tall parts.

■ Features(5) : Tool setup without stopping machine and automation solutions (Automatic tool change during laser cutting)

The ACIES-AJ series can change tools in process.
Its automatic tool changer system prepares tools in the buffer turret while the machine is punching and automatically changes the tools in the turret with those in the buffer turret while the machine is laser cutting.
The machine need not be stopped for setting up the tools. Machine availability can be thus maximized.
---
Movies
Material: SECC / Thickness: 1.6 mm
---
Production Samples
---
Systemup Examples
Space-saving(Single-storage tower specification)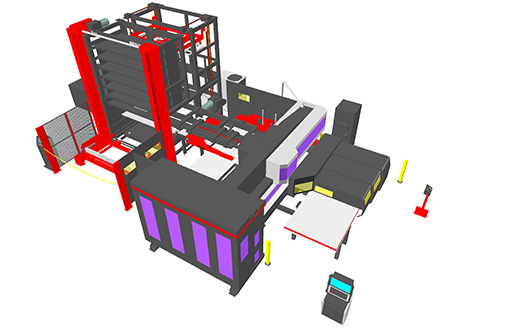 A destacker in the storage tower allows for flexible process scheduling regardless of material types and thicknesses.
Material and part storage towers(Two-storage tower specification)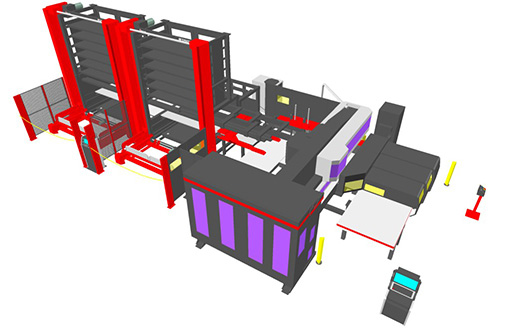 The two-storage tower specification, composed of a material storage tower and a part and skeleton storage tower, allows the continuous processing of multiple materials and parts at the same time.
Automated storage and retrieval system specification Specifications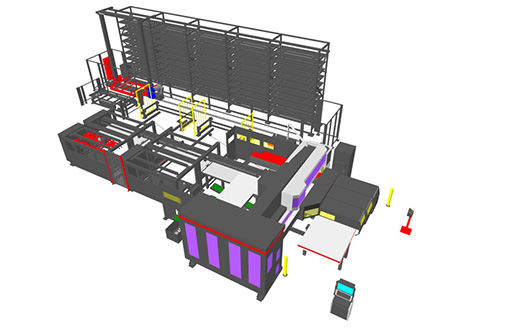 Continuous operation for a long time realized by connection with an automated storage and retrieval system. The overall system can be laid out to suit the available floor space and height of specific customers.
* Customers can upgrade their systems by selecting and combing the optimal peripheral equipment software and other components.
---
Specifications
Press capacity
(kN)

Maximum processing size (mm)
X × Y

Oscillator

Power requirements
(machine and dust collector)
(kVA)

Maximum sheet thickness
(mm)

ACIES-2512T-AJ

300

2550×1525

AJ-3000
(rated output: 3kW)

44

6

ACIES-2512B-AJ

41

ACIES-2515T-AJ

3050×1525
(with repositioning)

44

ACIES-2515B-AJ

41
---
*For Japan domestic market.
*For any inquires, please contact local AMADA branch office.
---