AMADA
Blanking machines
Laser machines
LCG-3015
Global standard CO2 laser machine
Pursuit of processing thin to medium materials with high speed and productivity

AMADA, a laser machine pioneer, has developed a new global standard laser machine.

The new laser machine adopts a low center of gravity carriage and a latest drive mechanism. These features combine with a high-torque motor and a helical rack system to achieve high-speed processing and cutting acceleration improvement.
---
---
Features
■ Features(1) : High-speed processing of thin to medium materials

A low-center of gravity carriage and a latest drive mechanism are adopted to achieve the highest rapid feed rate and cutting speed of the class.
Rapid feed rate: 170 m/min for X and Y axes

■ Features(2) : High-quality processing

A new oscillator designed for processing thinner materials is installed to achieve high beam focusability and improve surface roughness.

■ Features(3) : Function enabling stable processing

ECO Cut is an energy-efficient, high-speed oxygen-assisted cutting process. Running cost is reduced by reducing processing time and assist gas consumption.

■ Features(4) : Latest functions installed

The machine is equipped with the function of automatically switching to a power save mode when it goes on standby.
The internal mirrors are increased in service life.
---
Movies
Material: SPH / Thickness: 6mm
[ Please click here for more detailed movie of the LCG-3015. (YouTube) ]
---
Production Samples
Material: SPC /
Thickness: 1.0mm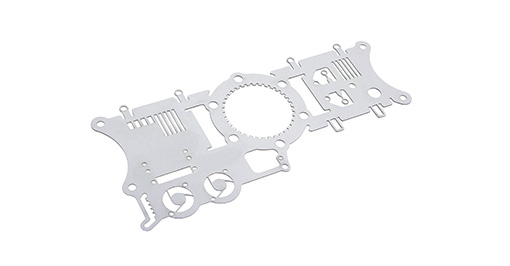 ---
Specifications
Rapid feed rate
(m/min)
X:Y:Z

Maximum processing size
(mm)
X × Y × Z

Oscillator

Maximum sheet thickness
(mm)

LCG-3015

120:120:80

3070×1550×100

AF3500i-C
(rated output: 3.5kW)

SS:20
SUS:10
Aluminum:8
---
*For Japan domestic market.
For any inquires, please contact local AMADA branch office.
---